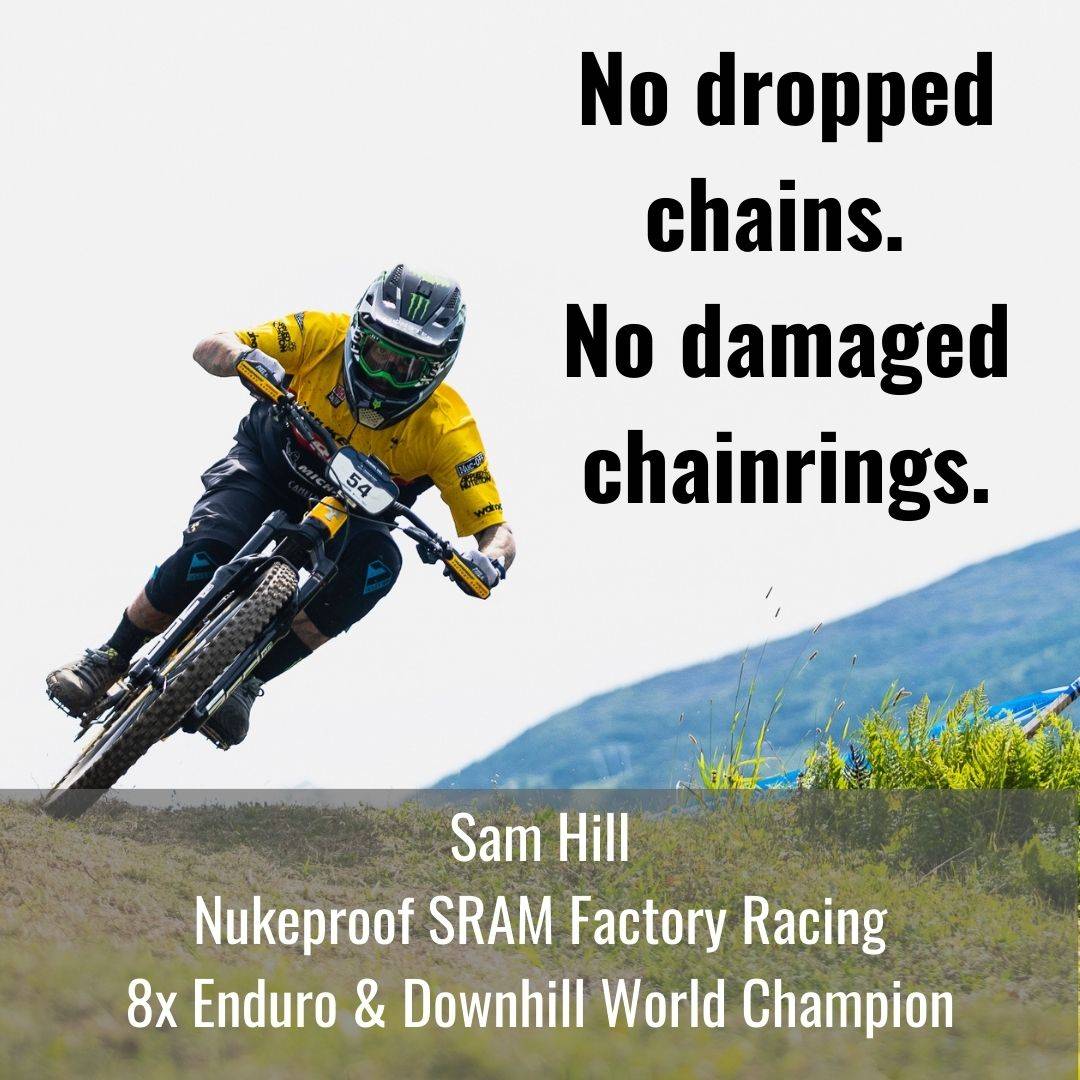 The AMg eliminates dropped chains and bent chainrings.

The AMg (the "All-Mountain" guide) combines a lightweight upper guide and a durable bashguard. Unlike the cheap, flexy, and rattle-prone upper guides found on competitor's products, the AMg features our premium, stiff, silent upper guide and fiber-infused bashguard.
The "Forefront" feature allows for 4-way, front-accessible setup and adjustment. This broad adjustability makes installation less "trial-and-error" and more "set-and-forget."
The "Pop-Up" feature allows for tool-free chain access - simplifying installation and drivetrain maintenance. The guide pops-up and snaps shut with satisfying and secure clicks.
Chainring Range: Choose from 28-32 or 32-36t models.*
Drivetrain Compatibilty: Internally shaped to accomodate even super-wide ratio cassettes and wide chainlines.
Mounting Options: ISCG-05 only.
*CS model is one size, for 28-34t rings.
Backplate never extends above upper guide – for a better look and reduced risk of frame interference.
Upper guide 26% smaller than older upper guide for more discreet aesthetics.
+ Backplate Material Options
Steel (CS model), Alloy (SL model) and carbon (SLR model)
*CS does not feature the redesigned upper guide with 4-way adjustment and tool-free pop-up.
Steel CS: 150 g
Alloy SL: 105-109 g
Carbon SLR: 86-90 g
SL and SLR models have 28-32t or 32-36t options that share backplate and upper guide parts, but feature different bashguards:
AMg SL and SLR 28-32t use bashguard "A"
AMg SL and SLR 32-36t use bashguard "B"
*CS is one size: 28-34t (uses bashguard "A")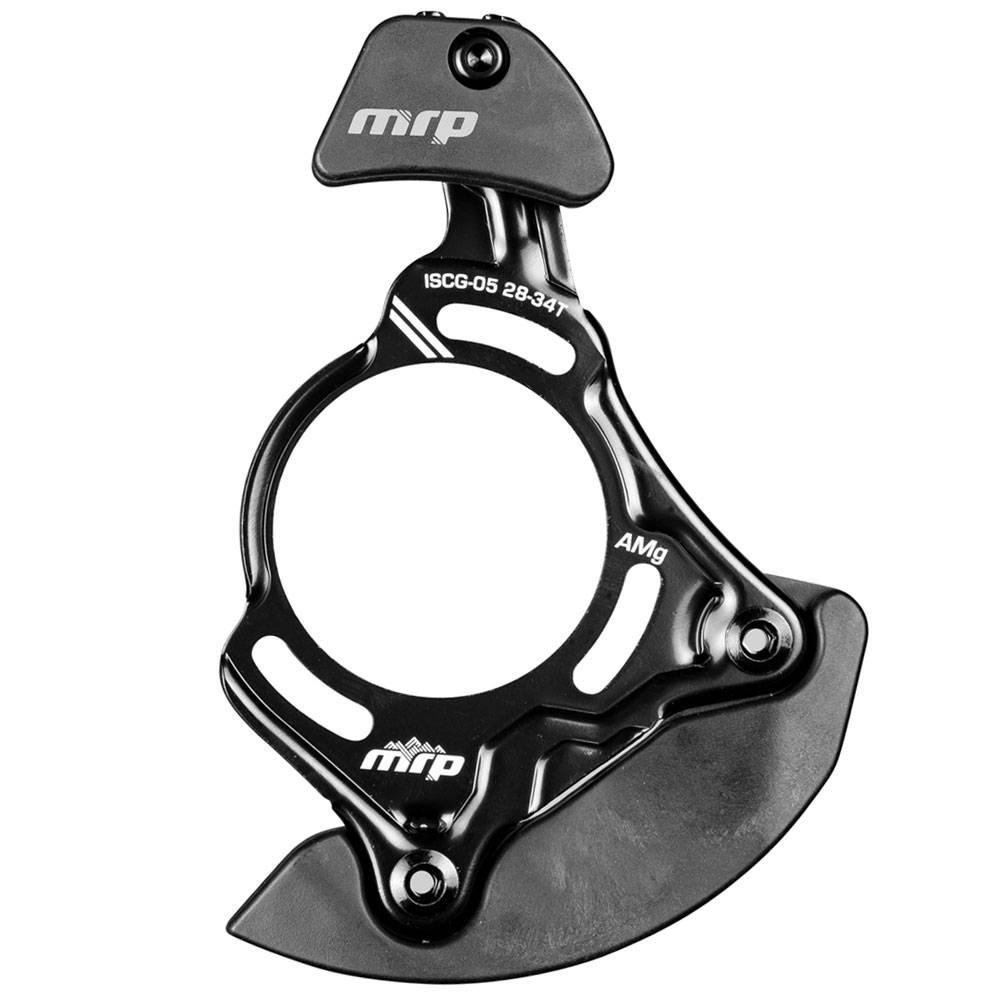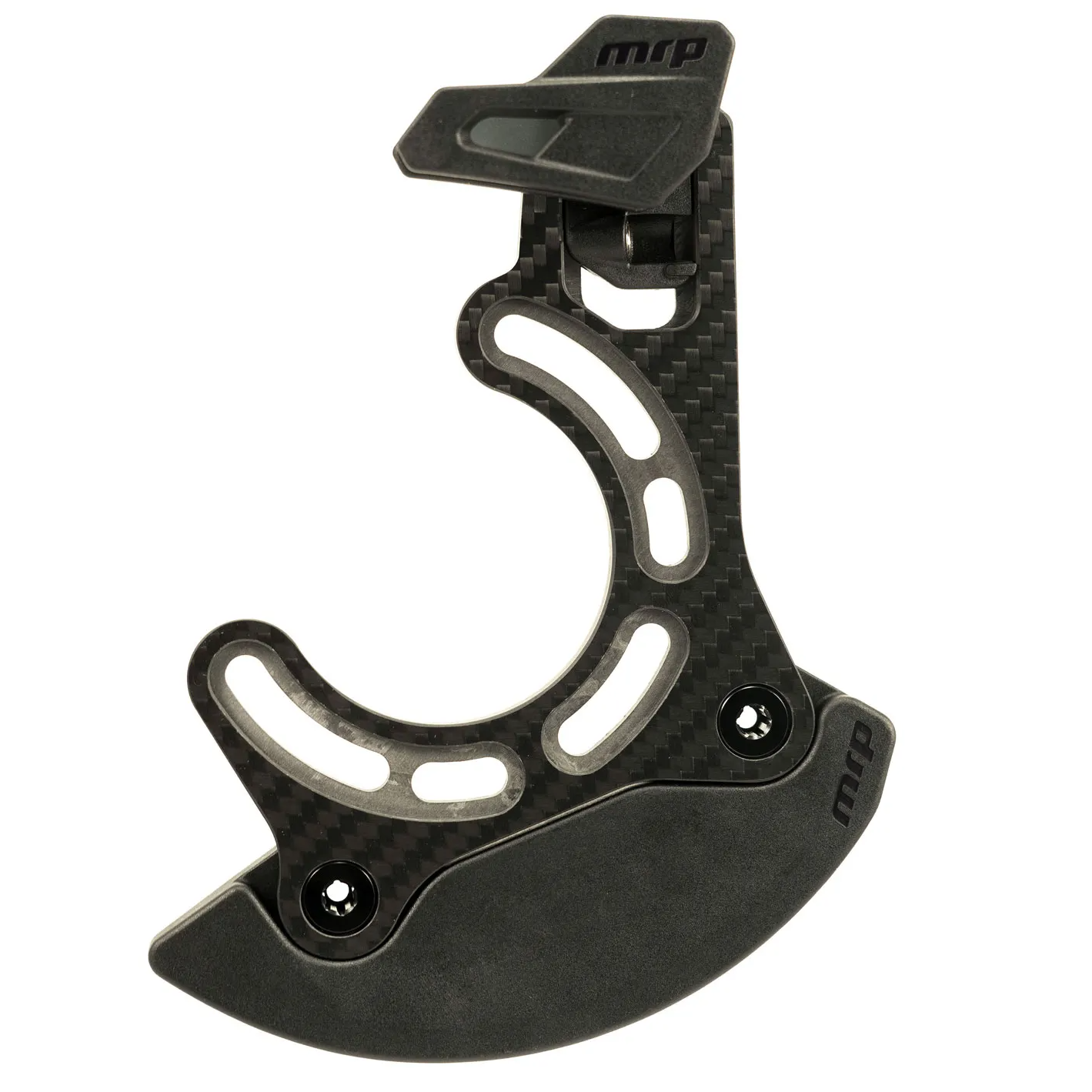 Compatible Chainring Sizes:
28-32T (26-30t oval)
32-36t (30-34t oval)
28-32T (26-30t oval)
32-36t (30-34t oval)
Forefront adjustment system:
Pop-Up tool-free chain access:
I have a 32T chainring, what size should I get?
If you have a 32T round chainring, and have no plans on going up in chainring size or changing to an oval chainring, go with the 28-32T version. Doing this will keep the skid from hanging down excessively lower than the chainring.
If you think you may get a larger chainring in the future or switch to an oval ring, go with the 32-36T version.
If you start with one size and need to change in the future, all that's needed is a new lower skid to change the size of the AMg.
I have ______________ bike, what model should I get?
As long as your bike frame has 3 ISCG-05 mounting points behind the cranks, you could use any of the listed models on the AMg page. If your bike only has 2 ISCG-05 mount points, we don't recommend running the AMg. We have other solutions for frames with 2 ISCG-05 mount points.
CS is our budget-friendly model that uses a steel backplate. SL is our aluminum backplate model, and our most popular model we make. SLR is our carbon backplate model and the lightest version of the AMg.
I need more spacers to move the chainguide off my frame. Do you have longer hardware?
Will this work on my eMTB?
We have yet to see an eMTB that has standard ISCG-05 mounts. Most eMTBs use custom motor mounts for chainguides, and therefore the AMg will not work. We would recommend checking out our eMTB chainguides HERE