Many times, shopping for a new bike component can feel like tipping a row of dominoes. In order to upgrade one component, you need to buy another part, then another, so they all play nice together. This is often true if you want to update the suspension fork on your 3+ year-old bike, as you'll probably need a Boost front hub. We've got you covered!
What is Boost spacing?
The Boost front hub standard is 15x110mm axle spacing versus the original 15x100mm standard. It was adopted to increase wheel stiffness and greater tire clearance in forks. The "110mm" refers to the overall hub width, and the "15" is the axle diameter. The brake rotor position also changed with the Boost standard, moving outboard from the hub centerline by 5mm. Many popular and premium 15x100mm hubs can be updated to the Boost standard with our Better Boost adapter kits.
  Convertible hubs:
DT Swiss 350 15x100 6-bolt, 350 15x100 Centerlock, 240s "Fifteen" 6-bolt, 240s "Fifteen" Centerlock, 240s OS

Stans 3.30 6-bolt and NEO 6-bolt

Industry Nine Torch Mountain 6-bolt

Chris King ISO Disc

Hope Pro 2, Pro 2 EVO, and Pro 4
"Boost 20" is another new standard. It is more recent and serves as an update for hubs and forks with 20mm axle diameters. The Boost 20 standard really only changes the brake rotor spacing, overall hub width remains at 110mm as it was with the original 20x110mm standard. All 6-bolt 20x110mm hubs can easily be updated to Boost 20 with our Boost Rotor Spacer.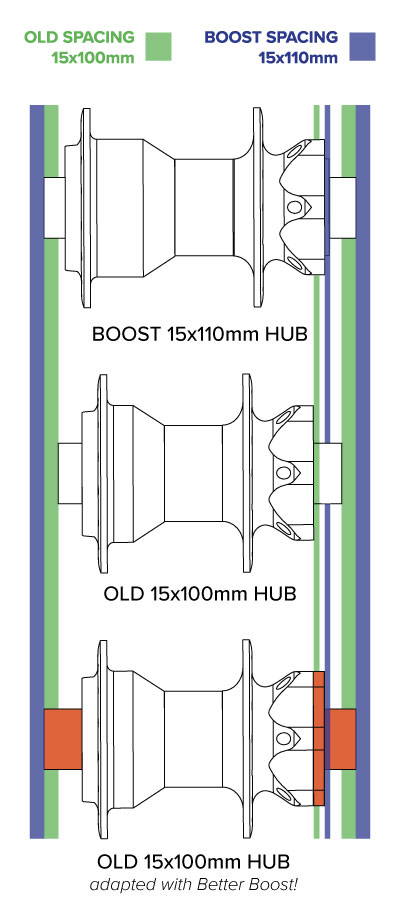 How to upgrade to Boost spacing
The change from "standard" to "Boost" spacing left many people in the lurch when wanting to upgrade a crucial component on the bike: the fork. Without an adapter, a new front wheel or new hub plus wheel rebuild is required to upgrade to a Boost fork. Between the two products, you'd be dropping some serious cash.
We created the Better Boost Adapter Kit to eliminate that costly inconvenience. These kits allow you to keep your current wheel and upgrade to your fork of choice. There are other conversion kits on the market, but they typically include just one hub end cap, which requires you to re-dish your wheel so it is properly centered in your fork. That process is a pain. And that's what makes our kits Better.
6-Bolt Better Boost
The six-bolt Better Boost Adapter Kit is simple. It consists of two precisely machined end caps, a brake rotor spacer, and the necessary bolts. Installation is easy, taking just minutes.
Centerlock Better Boost
We also offer a Centerlock Better Boost Adapter Kit. Because it's not possible to space a centerlock rotor mount on a hub outboard, we instead provide a brake caliper adapter that moves your brake caliper inboard 5mm. With this kit installed, you essentially have Boost axle spacing, but standard rotor spacing. The brake caliper adapter does require you increase your rotor size one size up from the post-mount standard you are mounting it on. Some forks use 160mm post-mounts, thus with the adapter you'd use a 180mm rotor. Other forks, including our Ribbon forks, use 180mm post-mounts, so you would need to use a 203mm rotor. The Centerlock Better Boost Adapter Kit includes two end caps, brake caliper adapter and adapter mounting bolts.
The Better Boost Adapter Kits are available on our website here or through your favorite local bike shop.
---